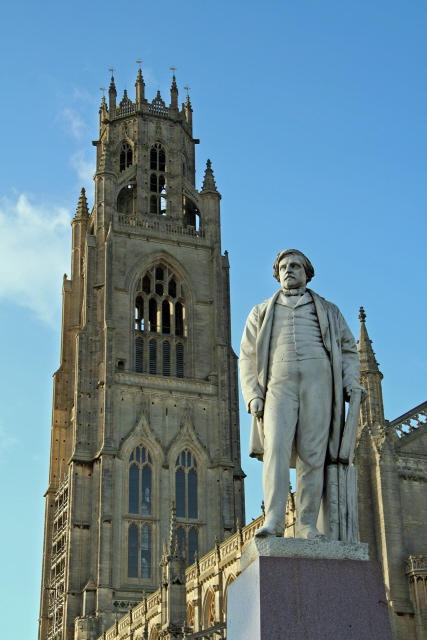 UK Resistance – Working Class Action visited Boston in Lincolnshire on Saturday 14 April 2012. Local UKR activists were joined by their comrades from across the country for the third UK Resistance – Working Class Action demonstration. We were in Boston to highlight the concerns of many local working class people who feel ignored by their elected representatives. UKR also carried out a small poll (the results of which will be published shortly) in the form of a questionnaire amongst shoppers, to ascertain their feelings about how the town was being run.
We had notified Lincolnshire Police of our intentions beforehand and had issued them with a final draft of our literature to assuage any fears they may have had. We know we didn't have to do this, but in such austere times, we feel we have a responsibility to the Council Tax-payers of areas which we visit not to place any further strain on already overstretched police and local authority budgets.
Our protest was mentioned in local newspaper, the Boston Standard.
ACTIVISTS opposed to the 'dumbing down' of politics will be holding a demonstration in Boston this weekend. Protesters from UK Resistance: Working Class Action will make their stand at the Herbert Ingram Memorial this morning (Saturday) from around 10.30am.
Around 15 people are expected to travel from across the country to oppose to the safe Conservative seat held in the Boston and Skegness area. The apolitical group will have placards and will be handing out leaflets and questionnaires to members of the public.
Demonstration for Boston - Boston Standard
Our working class protest was aptly staged in the shadow of the statue of local MP and philanthropist, Herbert Ingram. A photographer from the Boston Standard was present and took photographs of the assembled UKR activists. Placards were held up raising issues over local concerns and the increasing detachment of the main three political parties. Leaflets (see below) were also handed out amongst members of the general public.
The Spirit of Herbert Ingram
UK Resistance – Working Class Action is in Boston today to highlight the genuinely held concerns of many local people who feel ignored by our elected representatives and frustrated at the quality of their leadership and lack of accountability.
In recent years, some areas of Lincolnshire have experienced a 33% rise in population. Many people are concerned about this and also the propensity of local employers to employ only foreign labour. Working class people who raise concerns about immigration are automatically condemned as racist; we believe this response creates frustration and is also counter-productive to our development as a society. Politicians pretending nothing is wrong will only lead to people simply in search of a better life being targeted. In the last five years alone, racially or religiously aggravated offences in Lincolnshire have risen by 22%. This is unacceptable, but simply a result of the genuinely held concerns of people not being addressed.
Locally, unemployment has risen 18% in the last 12 months, well above the national average. In some areas of Boston, a third of people live in fuel poverty, our elderly and disabled are literally forced to decide between heating and eating every winter. There is a housing crisis in Lincolnshire, yet extra government funding amounted to a paltry £419,940. There are also concerns regarding rise in drug and alcohol-fuelled anti-social behaviour on the streets. Under-funded and over-worked law enforcement and health services are buckling under the strain. Cancer patients are told that medicine to save or prolong their life is too expensive. The state education system is failing generations of our children. Long established shops and small businesses are disappearing, former proud working class areas turned into ghettos.
Our MP, Mark Simmonds, asks Parliament for more resources to solve the problems, but in such austere times we believe our politicians should be brave and confront the real issues instead of continually turning to hard-working tax-payers to paper over the cracks. In opposition, the Conservatives called on Labour to address the situation, why have they not acted themselves now the roles are reversed? The problem is, we have idealistic ex-public school pupils running all the mainstream parties. They're totally detached from reality, terrified of taking tough decisions due to media response and re-election concerns. Instead of dealing with the issues, they raid pensions, raise retirement age, increase tax on petrol, road-tax, alcohol, tobacco and expand VAT on food. In other words, like the banking crisis, they expect you to pay for their folly. Easy come, easy go.
We understand the exasperation and dissatisfaction which is felt, because we feel it too. Unlike our politicians, we are confronting the real issues and intend to channel genuinely held concerns positively by encouraging ordinary people to stand up and speak out and our politicians to start listening to working class common sense again. We do not want problems to fester and leave it to our already under-funded and overstretched police force or NHS to pick up the pieces when frustrations boil over. Our emergency services are decent, dedicated people who contribute to society by serving it, but our politicians cynically take advantage of that altruism.
Our politicians turn out every four years to beg for votes, promise the world, then slope off and change nothing. Proven inept and incapable, they are failing in the basic task of representing us. It is mismanagement of epic proportions which has a negative effect on people's lives, yet none of them seem to think they are answerable anymore. They will never get back in touch with reality if voters don't remind them they are still answerable to the electorate.
How many times do you hear ordinary people like us say 'what's the point? We'll never change anything'. We believe we can change things, peacefully and democratically. Granted, there is no difference between the main parties anymore, but we believe that once the political gravy train looks like hitting the buffers for certain individuals they will sit up and take notice, especially in safe seats such as Boston and Skegness. Over the coming months and years we intend to confront our elected representatives and insist they address the concerns of ordinary working class people again.
We have lost the Labour Party and the trade unions to speak out on our behalf, so we have to do it for ourselves. We've seen people from Boston stand up for issues they care about in recent months and achieve recognition. We've also seen supposedly safe seats, which the main parties take for granted such as Bradford West, overturned by people power. We can do the same thing with working class communities and build voting blocs that will regain us representation again.
This is the first of many actions by UK Resistance – Working Class Action, the peaceful and democratic fight back of the patriotic working class starts here, in Lincolnshire.
We received a surprising amount of positive feedback from members of the public. Activists were amazed at how many people were willing to engage with them and answer the questionnaires, many seemingly simply wanting to unload their frustrations to willing listeners. One elderly member of the public remarked we were the only people who had ever asked them their opinion. Another begged us to visit their city and stage a similar action. Another elderly couple approached us and said "Good on you, we'd join you but we're too old now". It is for people like these we are on the streets, they may be considered surplus to requirements by our political class, but they certainly haven't by us. As a group the visit proved to us that we do have a mandate from the working class to pursue our present course.
One worrying response, which all activists remarked upon, was the fear of travelling to Boston town centre expressed by the vast majority of elderly residents we spoke to. Many said they felt intimidated every time they visited the town centre, regardless of the time of day. The frequency of these complaints worried our activists to such an extent that we have immediately written to the Chief Constable of Lincolnshire and also to Boston Borough Council. UK Resistance – Working Class Action will not tolerate elderly members of our community who have contributed positively to society all their lives, living out their remaining days in fear. We shall take whatever peaceful and legal action is necessary to remedy the situation in Boston. At the moment will shall contain ourselves with the correspondence we have sent to the authorities and await their response.
However, we must stress that this is not automatically a criticism of our police. Many residents who expressed fears, mainly about anti-social behaviour and street crime in Boston town centre, also said they thought highly of the police, there just weren't enough of them on the ground. This view obviously re-enforces the general ethos of our protest on Saturday, out of touch politicians are responsible and must be held to account for the current situation, not our dedicated public servants.
Other concerns were voiced, immigration seemed to be the number one issue on peoples mind. Many people said they felt a lot of other problems stemmed from the unwillingness of politicians to address immigration. Employment, the propensity of local employers to only employ foreign labour and housing were also major pressing concerns. Anti-social behaviour, including drunkenness in the town centre was repeatedly mentioned. As was litter and the fact many town centre businesses had closed down and new ones, popular in other towns, seemed reluctant to open in the area. One view everyone seemed to share was the feeling of abandonment by the politicians of the main three political parties.
A couple of people were obviously perturbed by the fact we peasants had the temerity to take to the streets. One gentleman claimed we were the political wing of a white supremacist group. Obviously his claims fell on stony ground when, to his embarrassment, it was pointed out that we carried a picture of Honest John Sentamu and had demonstrated in support of the Ugandan Archbishop of York on a previous demonstration. Even our detractor had to agree, they were hardly the credentials of a white power organisation. Obviously, we will encounter middle class fascists, or working class sell-outs like this gentleman who will try and tar us with any brush which they think will silence us. The abandonment of the working class by the Labour Party and trade unions was engineered for a purpose; the middle class establishment simply do not want working class people organised and vocal. Tough. We will emphasise now, and continue to do so in the future, we do not support any political party or ideology, we do not have links with any other organisation or group. We will never subscribe to any ideology our ancestors fought against and in some cases paid the ultimate sacrifice. We are simply a working class resistance movement seeking to credibly and effectively defend our community, its customs, traditions and way of life. We will not waste any time on, or be silenced by, immature and inaccurate accusations by people bereft of an argument or a point to debate.
At the end of the protest, UKR activists posed with a Falkland Islands flag to show solidarity with our comrades in the South Atlantic and their fight for the right of self-determination in the face of recent Argentinian provocation. We were proud to stand alongside one of our members who played an active part in the liberation of the Falkland Islands in 1982.
This is the first of many actions by UK Resistance - Working Class Action. Following such a positive response, we can confidently state that we have a genuine mandate to act in Boston and the wider Lincolnshire area in the future. For now, we will await a response from Lincolnshire Police and Boston Borough Council regarding the safety and the perceived safety of the elderly members of our community. That is something in the short term that we are determined to rectify.
We, the working class, we, the people!