Lawyers ponder challenge to ruling preventing docu-drama from being broadcast 'by any media until further order'
Guardian 19 July 2012
By Paul Lewis and Josh Halliday
Lawyers for the BBC are considering making a formal appeal against a court order that has banned the corporation from showing a dramatised film about the experiences of rioters who took part in last summer's disorder.
The ruling from a judge prevented the docu-drama, which had been due to be broadcast on BBC2 at 9pm on Monday, from being broadcast "by any media until further order".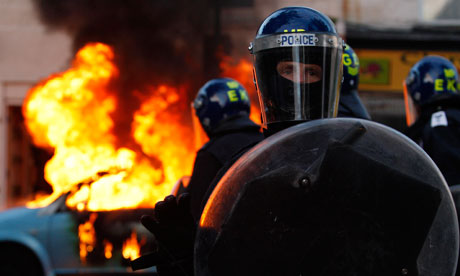 The channel's executives were forced to pull the film, which is based on the testimony of interviews conducted for the Guardian and London School of Economics research into the disorder.
A second BBC film in the two-part series, which is based on personal interviews with police officers and was scheduled for broadcast on Wednesday, is also banned under the order.
For legal reasons, the Guardian cannot name the judge who made the ruling, the court in which he is sitting or the case he is presiding over. However, it is understood that lawyers for the BBC strongly object to his ruling, the nature of which is believed to be highly unusual.
Read more HERE